December 11, 2022
Online
12:00 pm - 1:00 pm
Youtube Link :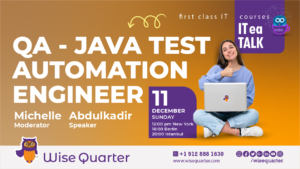 Java Test Automation Engineer (QA) – ITea Talk
At Wise Quarter Course, we know that the key to success in the field of Quality Assurance Automation Engineering (QA) is staying ahead of the competition and being able to identify and troubleshoot not only short-term issues, but also long-term compatibility issues.
That's why we proudly offer our QA Bootcamp, which will help you master up-to-date tools and techniques for successful
QA Java Test Automation Engineer.
Our bootcamp provides students with a practical, project-based experience aimed at strengthening their QA engineering skills and knowledge. With hands-on instruction from experienced professionals, our QA Bootcamp instills real world experience while teaching valuable professional competencies such as debugging, API interactions, coding standards, automated testing and more. For those looking to ramp up quickly on their way to becoming an accomplished QA Engineer, Wise Quarter Course's Bootcamp is an ideal choice!